Located in the center of Waikiki in Duke's Marketplace.
We're next to the Waikiki Beachcomber across from the Royal Hawaiian Hotel on Kalakaua Avenue.

ADDRESS:
Duke's Marketplace
5 Duke's Lane Honolulu, Hawaii, 96815
DUKE'S MARKETPLACE
is conveniently located in the the middle of Waikiki, this landmark open-air market has been around for over 30 years. Visitors can find various souvenirs to take home from 100+ kiosks and stores. This area is considered what part of the old International Marketplace used to look like with vendors in an outdoor market, selling crafts and gifts similar to the Aloha Statium flea-market and ABC stores. Duke's Marketplace is now the only remaining outdoor marketplace in Waikiki.
Duke's Marketplace in on the backside of the Foot Locker, Rip Curl, and Coco Cove building. Another visual reference seen from a distance is to look for the Top of Waikiki, the round top building that looks like a UFO is parked on top. The Top of Waikiki building is next to walkway siding Coco Cove with Ross on the backside.
Duke's Lane

is an access way running between Kalakaua Ave. & Kuhio Avenue. The alley fronts the Waikiki Beachcomber entrance

across the street from The Royal Hawaiian Hotel & Cheesecake Factory, & goes down to Kuhio Ave. with Duke's Marketplace to Duke's Lane Market & Eatery.


Please don't hesitate to call us at 808.384.4202 prior to your lesson for detailed directions, or for any questions.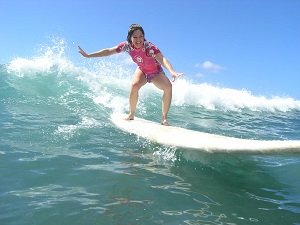 WALKING DIRECTIONS:
From Kalakaua Ave. =

U

sing the walkway to the left of Coco Cove is easiest, or you can use the entrance across from the Waikiki Beachcomber to walk between the different shops. Rear to the left upon entering.
From Seaside Ave. =

Use the path next to the Ross parking entrance
From Kuhio Ave. =

Walk down Duke's Lane and enter into Duke's Marketplace.
PARKING:
Ross Dress for Less - 333 Seaside Ave. -
Complimentary 2 hours with validation from Ross Dress for Less
, $3 for every 30 minutes aferwards (you might as well go around the block and reset). You also have the option of prepaying at the booth entrance for a flat rate of $15 for 10 hours

(must pay at pay station within 20 minutes of entry).
Free Parking in Waikiki:
There's free parking on various streets off of the Ala Wai Blvd. and Kuhio. Ave., and they're not always easy to find. Please read the posted signs as some streets are cleared during traffic hours.
There is free public parking available behind the Illikai Hotel near the Ala Wai Boat Harbor until 10:30pm (they have tow trucks waiting). The Waikiki Shell parking lot on Monsarrat Avenue has free parking. On Sundays, parking meters on the streets around Kuhio Avenue and Kalakaua Avenue aren't enforced. It generally takes 20 to 30 minutes to walk from the far ends of Waikiki to the center where we're located.
Click here to launch Google Maps, or you can use the map below
PacifiC SouL SurfinG - Guaranteed to Surf or Money Back!
WE ACCEPT VISA, MASTERCARD, & CASH
FOR BEACH RENTALS